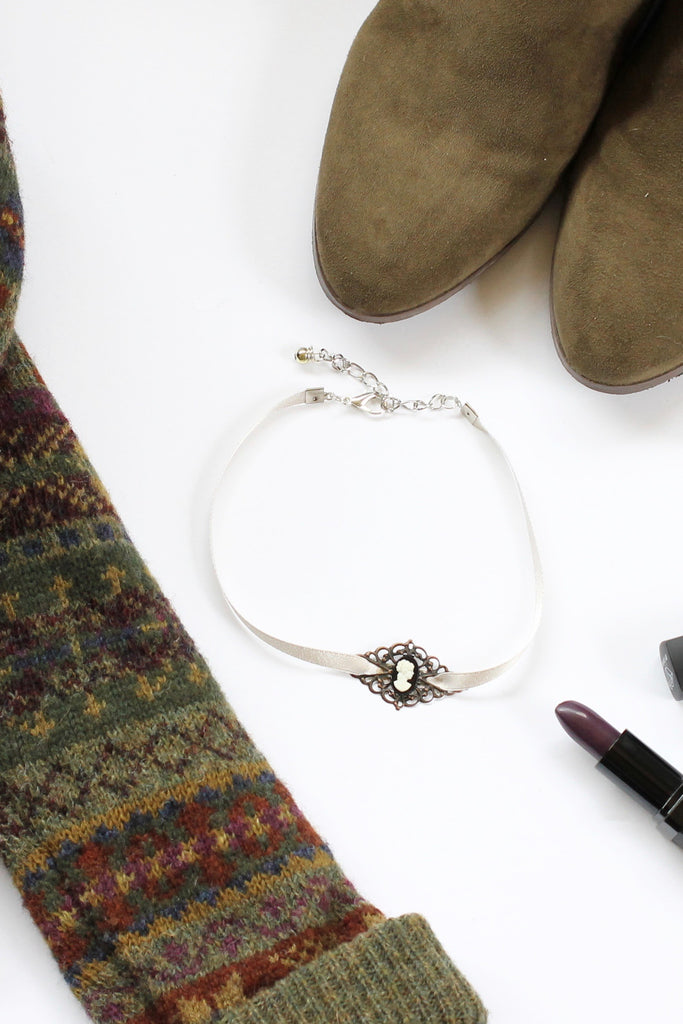 black and white cameo choker with ribbon CAMEO CHARGE
This bow choker necklace is called Cameo Charge. It is unique and one-of-a-kind. It is made from a vintage 1920's vintage cameo with new filigree and satin ribbon. . 
THE WOMAN WHO WEARS HER;
You love to window shop on Sunday afternoons.
You are a really good listener and I mean really good.  
If you could you would disappear into your day bed and read all day. Escaping into the lives of Tris, Elvie, and Beryl. 
You are an old soul.
You go out for dinner and spoil yourself with the most expensive glass of wine on the menu. Things have been going well at work. 
You just got a promotion.
You may be quiet but you certainly can speak your mind.
You tell it like it is, when it needs to be told. 
I like this side of you.  
DETAILS
- made from vintage 1920's vintage cameo
- gift wrapped ready to give
- any pieces can be made shorter/longer
- listing is 1 necklace only 
- made in Toronto, Canada
- custom orders welcome CONTACT US. 

Our Fall/Winter collection is called Highland Stories. This collection was inspired by the thrill of the vintage hunt, the 1990's and the woman who has big dreams.