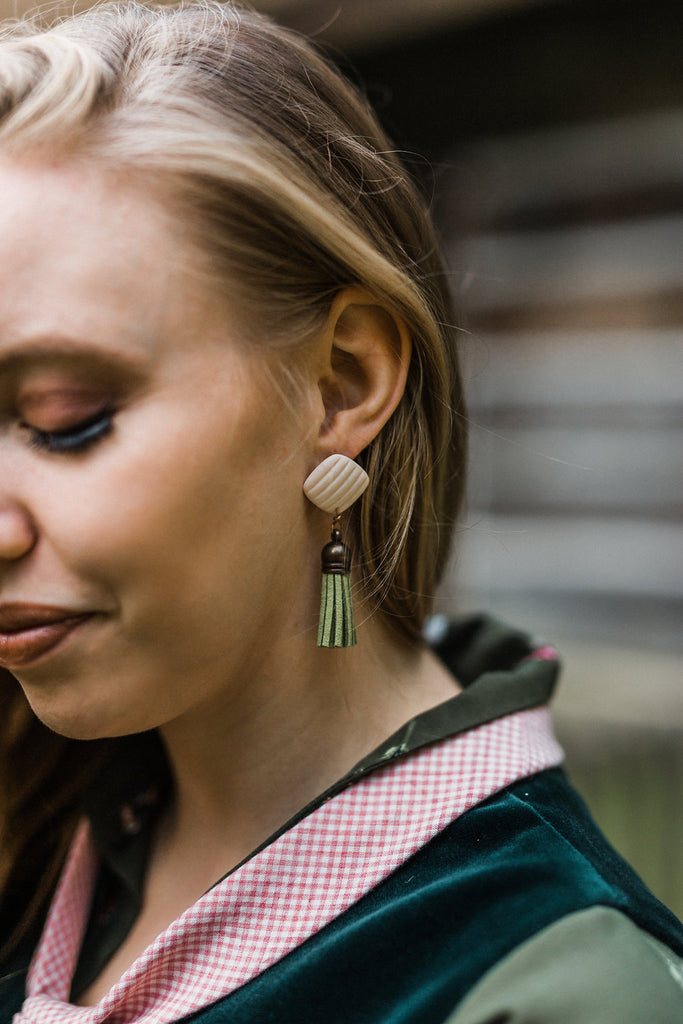 green tassel upcycled vintage earrings
This trendy fashion green tassel upcycled earrings with vintage stud from 1940's beaded necklace. They're a great gift for the indie, boho stylish girl. The earrings are one-of-a-kind. Wear them with high waisted jeans, a cool green vest and a flower pattern blouse with a checkered tie for an androgynous look. 
THE WOMAN WHO WEARS HER
10:30pm.
Sitting around a campfire.
You wrap your knit sweater a little tighter as the animals crunch through the trees. 
Smelling the air of sweet forests and bonfires. 
Dirt between her shoes.
You and him collected leaves, rocks and sticks all day in the warm sun.
Everyone is so charmed by the way she tosses her hair and her green tassel  earrings swing in the breeze. 
DETAILS
- made from beige vintage beads turned into studs and new green tassels 
- gift wrapped ready to give
- any pieces can be made shorter/longer
- listing is 1 pair of earrings only 
- made in Toronto, Canada
- custom orders welcome CONTACT US.