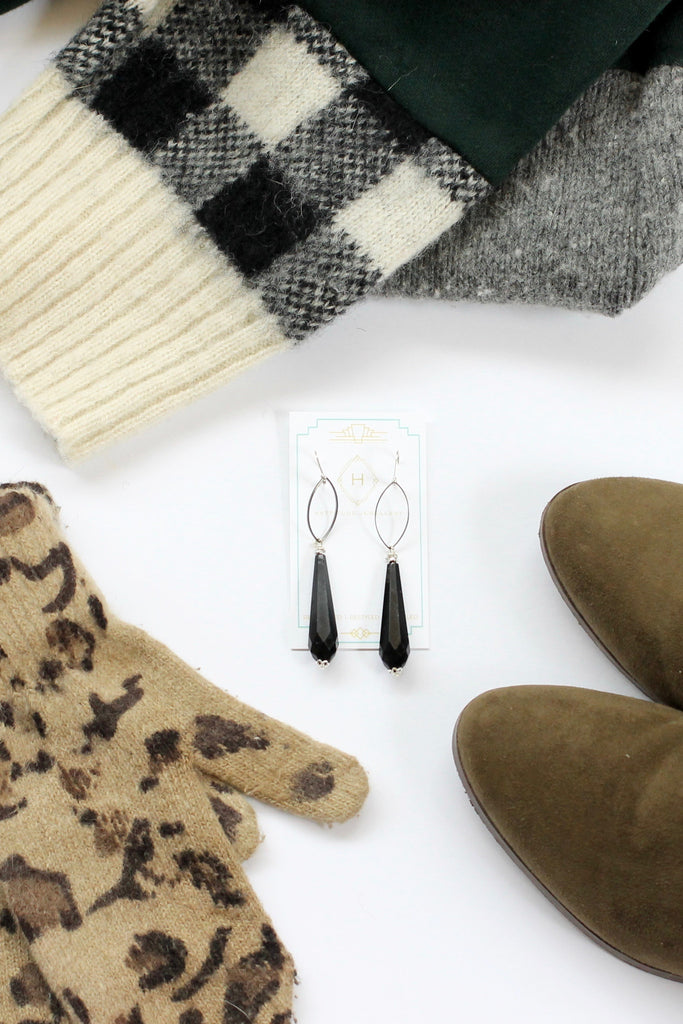 Black long statement earrings SIN
These black long dangly earrings are one of a kind, made  from vintage recycled black chandlier type beads from the 1920's. We love imaging the flapper woman from the roaring twenties who wore the beaded necklace and then re-imagining who will wear the modern restyled earrings. These are called Sin earrings. 
THE WOMAN WHO WEARS HER
1:23pm.
Scotland.
She's sitting in La Barantine Victoria cafe. 
Eating a charcuterie board with a side of scones. 
She watches the people walk past at the grass market in Edinburgh. 
"Hello" she whispers to the man next her in her Glasgow accent.
"Iongantach boireannach" he whispers back.
She wipes her mouth with the linen napkin, swallows the rest of her orange juice, pushes back her wild hair to reveal her earrings and pedals off into the afternoon. 
I pass her on the royal mile later that evening, thistle and heather flowers in her bike basket, a load of books strapped to her back. She's still wearing those earrings. Still unconsciously, Iongantach boireannach.
DETAILS
- made from vintage 1920's pieces
- gift wrapped ready to give
- any pieces can be made shorter/longer
- listing is 1 pair of earrings only 
- made in Toronto, Canada
- custom orders welcome CONTACT US. 

Our Fall/Winter collection is called Highland Stories. This collection was inspired by the thrill of the vintage hunt, the 1990's and the woman who has big dreams.