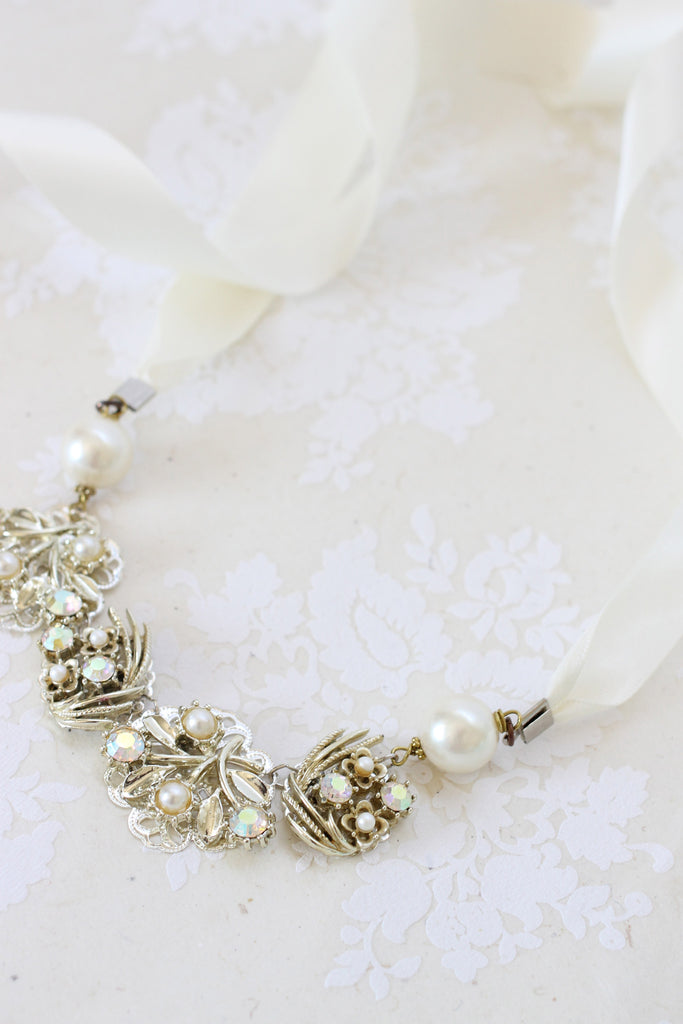 Ribbon bridal necklace LAOGHAIRE (LEE-REE)
This necklace is called Laoghaire (pronounced Lee-Ree). This necklace is one of a kind and named after a character in our favourite book series, Outlander by Diana Gabaldon. It's made from vintage crank earrings, brooches, and glass pearls from the 1930's and 40's.  We love the ribbon to adjust the length and the pretty feminine qualities it brings to the necklace. 
This piece was made in Toronto, Ontario by Hattie Dunstan in her studio loft with her two furry assistants; Beau the cat, and Melvin the dog. The jewellery is hand crafted exclusively by the designer herself. Thanks for supporting local artists.  
- gift wrapped ready to give
- any pieces can be made shorter/longer
- listing is 1 necklace only 
The SS // 2016 wedding collection is called History & Her Story. A collection of jewellery for the sweetheart bride and her bridesmaids. This collection uses family heirlooms to create a story and history for generations to come. 
CUSTOM ORDERS always welcome. See you something you like, but it's sold out, or want it altered a bit? CONTACT US.