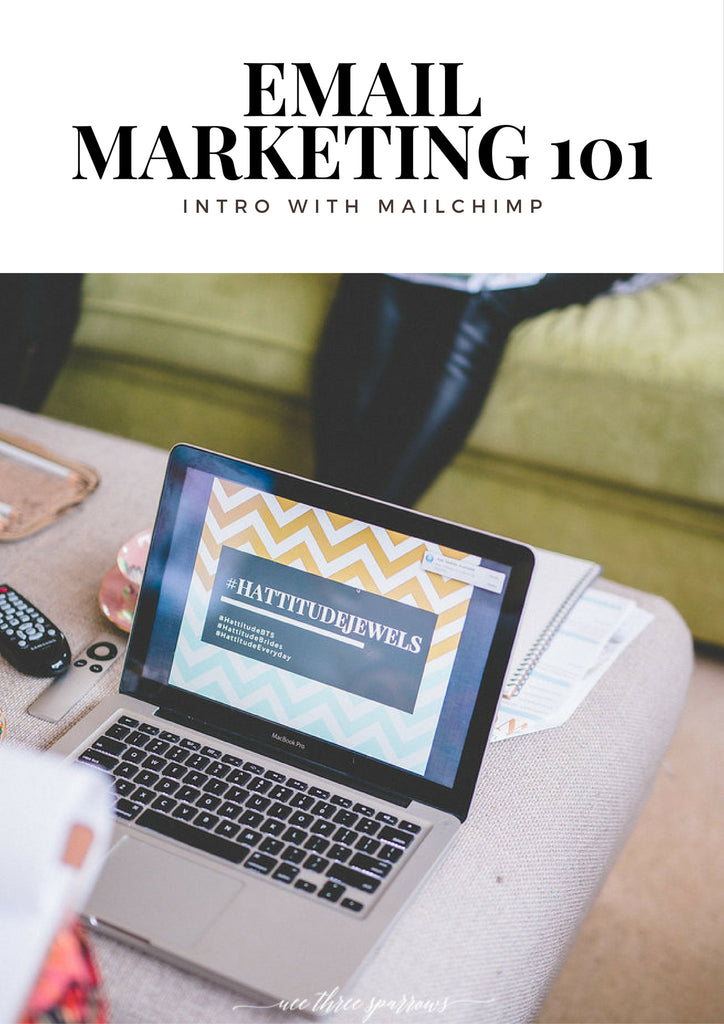 EMAIL MARKETING 101 workshop
WHEN: ONLINE VIDEO (LIVE) Monday June 26th, 2017 WORLDWIDE
TIME: 6PM-8PM - EST
WHERE: ONLINE IN GOOGLE HANG OUTS. A WEEK BEFORE THE EVENT A LINK FOR GOOGLE HANG OUT CHAT ROOM WILL BE PROVIDED 
REQUIREMENT: This course requires you to own a laptop .
IF SOCIAL MEDIA DISAPPEARED WOULD YOUR BUSINESS SURVIVE? 
Think about it... All those likes you've collected (or paid for) on Facebook and all the likes you've curated on Instagram won't mean much if Instagram or Facebook accidentally or on purpose kicks you off of their social network. We don't own any followers, or likes. We are simply collecting them and hoping that Instagram and facebook don't get 'angry at us' and kick us off these platforms. Having a working and engaged email list is protecting you and your businesses. You own those emails. You have the control. It means you own those email lists and those relationships you've made. No one will be able to take that from you. It's just SO important to have a working and engaged email list.  
I DON'T SELL A PRODUCT, SO WHAT WOULD I EVEN EMAIL ABOUT? WHAT'S THE BENEFIT TO MY BUSINESS?
Whether you're a photographer, a wedding planner, a retailer, a product maker or an artist, every single person who owns a business NEEDS to have an active and engaged email list. This will ensure that you can survive the shadow banning, the hacking, the random robots, and the lack of sanity of not having the amount of likes on an image you want!  If you post to Instagram, have a blog, or post to facebook, you can have an awesome email list by rotating content. Don't worry we go over ALL of this in the workshop. Want to know if an email list would work for your business? I'd love to take a look at your business and let you know my thoughts. CONTACT ME here. 
SHADOW BANNING AND LOW INSTAGRAM ENGAGEMENT IS REAL
The shadow banning (click here to find out more) and low Instagram engagement has SO many small business owners totally bummed out about their marketing efforts, people with email lists notice the slight decrease in traffic to their website but are not nearly as affected as the people who rely solely on social marketing platforms. This is why knowing how to effectively market to your email subscribers through campaigns is so important! We go over all of this in the workshop!
WHY ARE YOU RUNNING THIS INTRO TO EMAIL MARKETING WORKSHOP? 
Because effective email marketing is so much more then a monthly newsletter. I want to offer to all my colleagues, product makers, and creative entrepreneurs a workshop on the basics of email marketing using mail chimp. I think in this day and age it's so important for businesses to be able to survive if all social media disappeared. Email marketing is this tool. Email marketing is SO important to your brand. I want to help you add subscribers to your list, learn how often to send emails, how to integrate automated emails and how to convert subscribers to customers. Sign up for my newsletter here http://bit.ly/COOLtipsHJ to view what I do.
HOW IS THIS DIFFERENT THAN THE OTHER EMAIL MARKETING COURSES OUT THERE? 
Half the time when we buy a course online, we don't end up up using it! Am I right? Do you find you're one of those people? Time slips away and life gets busy. This workshop holds you accountable. You show up, we do the work and it's completely hands on. We set up a mail chimp account and activate automated emails with signs up and go through everything beginner related to email marketing in mail chimp. 
WHY SHOULD I CHOOSE YOUR WORKSHOP? 
I find if you have an in person commitment to show up and learn, you're more likely to do it! It's also really nice to have someone to ACTUALLY talk to and ask questions to, rather then a pre-recorded video. There's no one there to answer your questions on a pre-recorded video. In my workshop I actually walk you through opening up an email account, collecting subscribers and creating automated systems as well as innovative ideas on how to convert subscribers to buying customers. I'm not a video recording, I'm not a piece of paper you have to read and teach yourself. It's a hands on workshop. You get a chance to talk to other creatives, and you get hands on experience from a REAL person. 
WHAT IS YOUR BACKGROUND? 
I went to university for business marketing management so marketing has always been a passion of mine. I have run my own jewellery business for over 12 years. I have grown my email marketing list and now find it's one of my sole revenue streams for my jewellery business. I feel proud to say that if Instagram or Facebook disappeared my business would still survive due to email marketing. Emails never disappear. I control the emails and I'm not at the mercy of a social media platform. 
I want to share everything I have been studying and learning from all the articles and courses I have been taking with you. It's the ultimate goal for a lot of us creatives to start an email marketing campaign that converts. I am constantly reading articles and taking courses on how to make email marketing work for you and your brand and convert subscribers into customers. I want to summarize everything and share the best things that I've found work and what doesn't work. I've done the struggle and research so you don't have to. 
WHAT WILL THE WORKSHOP LOOK LIKE?
I'd love to invite you hang out with me in google hang outs. Bring your coffee and some donuts! You'll receive a worksheet of tips and tricks and a summary of everything that you've learned in the workshop to help you going forward with your email campaigns. This is an intro to mailchimp. We'll learn about:
- how to engage your subscribers
- actively seek new customers to add to your list
- tips and tricks for your campaigns
- subject lines that get opens
- how often to send emails
- create lead magnets that convert
- opt in forms that attract subscribers
- a rotation of the 3 emails that will keep customers clicking open
YOU'LL GAIN ACCESS TO PRIVATE STUDIO SERIES GROUP
After the workshop you'll also gain access to a private community on facebook of everyone who has attended the studio series (Instagram, email marketing). This community is for people who are helpful and want to always be growing and learning. If I can't answer one of your questions someone else in the group hopefully will be able to. This is where I'll also be posting weekly tips and tricks that I learn. 
HERE'S WHAT OTHERS ARE SAYING ABOUT THE WORKSHOP
"When I took Hattie's email marketing workshop, I knew nothing about setting up an email list. She helped me learn my way around mailchimp, gave me awesome ideas for email subject lines that capture interest, and so much more. I took SO many notes and couldn't wait to start implementing them." - Elizabeth Nord Photographer @elizabethnordphoto
"I have taken Hattie's Instagram and [email] Newsletter course and both times it was like chatting with your SUPER knowledgeable best friend about how to use these platforms to your companies advantage. I love how she isn't constantly trying to push us to sell, her philosophy is always first to connect with your customers on a deeper [level]. I would highly recommend any of her courses." - Carissa McCaig, Fashion designer @copiousfashions
STILL NOT CONVINCED? 
I totally get it. There are SO many workshops out there to choose from so you just may not be sure if this one is right for you. Email me and I'll look at your website and your business. I'll email you back right away with how I can help and if I think this workshop could benefit you. I only want people who are going to benefit 100% from the workshop attending, so if you're not a good fit, I'll let you know.  
I'd love to help! Send me an email below
This workshop is limited to 10 guests so please reserve your spot. This workshop does not include a laptop. Please bring your own. 
** Please note, we do not offer refunds as it is a limited amount of people in each workshop, so please be sure to only sign up if you are 100% able to join! **