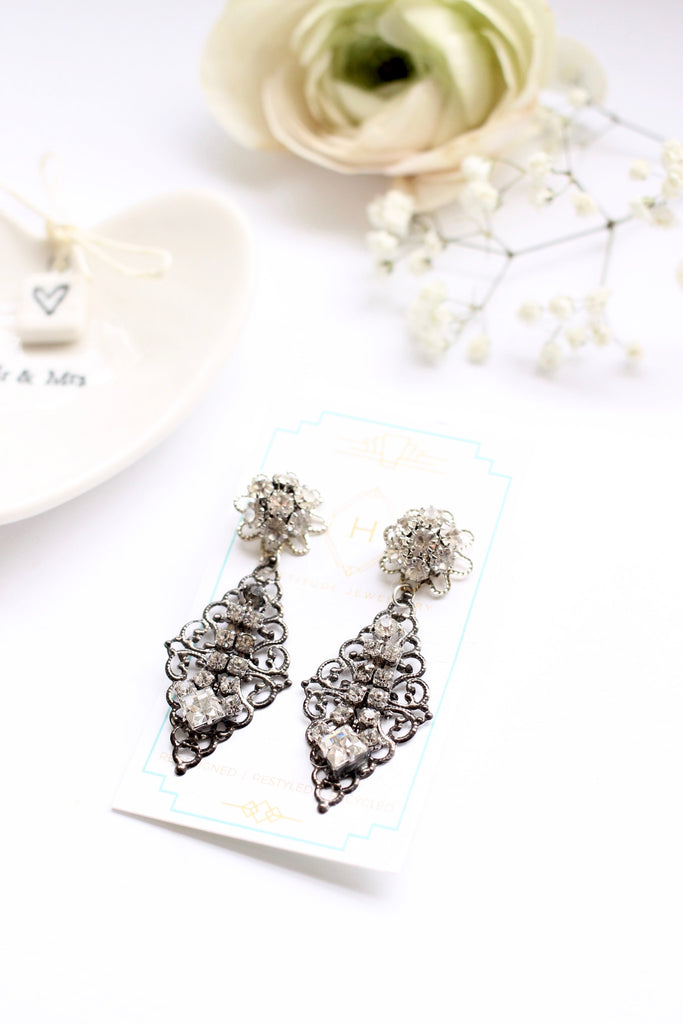 silver rhinestone bridal earrings MISTY THUNDER
These bridal silver earrings are the perfect amount of sparkle on your wedding day. The long drops with the flower like pendant are sure to make you swoon. Wear this with a red dress (for the indie bride), a champagne coloured dress, or a pure white dress. They'll match every single colour. Wear them after the wedding with a blue jean shirt, leather jacket and a sweet little skirt for date night. 
THE WOMAN WHO WEARS HER
You just had to see the lochs and the dolphins at Moray Firth.
The locals on the Black Isle can't stop talking about the fàinnean-cluaise she's wearing, the way her hair flows around the purple sheen of the earrings. Oh she's a tourist they'd think. 
Pretty soon they wondered if they even saw you at all. Like you were a ghost haunting the highlands. Mystery still intact. Mission accomplished.  
DETAILS
- made from vintage 1920's and 30's rhinestones 
- new filigree and posts
- gift wrapped ready to give
- any pieces can be made shorter/longer
- listing is 1 earring only 
- made in Toronto, Canada
- custom orders welcome CONTACT US.